Mother's Day is an opportunity to honor all the moms out there! If you have an Italy-loving mom presence in your life, why not treat her to a gift she'll love? Here are a few Italian-inspired gift ideas that are sure to make her feel special.    
Note: None of these suggestions are sponsored – just our personal favorites!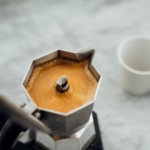 Espresso Machine
Most moms are juggling tons of responsibilities at once, and a little caffeine can go a long way! Italian espresso is famous for its rich, strong taste and intoxicating aroma.
Nespresso machines come in all shapes and sizes, while a traditional Moka will make her feel authentically Italian!
Fragrances & Skincare
Who doesn't love to feel pampered?! Treat your hard-working mom to a traditionally crafted perfume or skincare product from Officina Profumo-Farmaceutica di Santa Maria Novella. With deep roots in the history and society of Florence, this Italian-born brand remains respected for its traditional alchemy and luxurious gifts.
Ceramics & Pottery
Ceramic cookware and decor is a common part of Italy's culture, so why not treat mom to an authentic piece she can enjoy for years to come? Small businesses like Mercata Imports and Bella Soleil import products directly from Italian artisans and ship them locally in the U.S., so you can count on authentic and beautiful pieces.
Luxury Goods
Does your mom appreciate the finer things in life? When it comes to luxury goods, the Italians truly know best!
From Murano Glass vases, to Bulgari watches, to Buccellati rings, the options are endless.
Italian Cookbook
Any home chef will appreciate an authentically Italian cookbook! Whether you're trying to connect to your family's roots or are simply drawn to Italian cuisine, you can count on traditional recipes to satisfy your cravings. Here are a few of our favorites:
La Cucina: The Regional Cooking of Italy
Cucina e Famiglia: Two Italian Families Share Their Stories, Recipes & Traditions
The Silver Spoon: Traditional Italian Home Cooking
Italian Language Course
If your mom wants to connect to the Italian way of life, learning the language is a great way to do so! From classic platforms like Rosetta Stone to smaller, independent teachers and tutors, there are plenty of opportunities to study. She'll be ready to interact with the locals on her next visit to Italy! Online courses are perfect for busy moms, while in-person lessons give her a chance to connect with other fans of Italian culture.
Italian Wine
Italy is home to some of the best vineyards in the world! Why not treat your mom to a bottle of fine Italian wine? You might choose prosecco or pinot grigio from the Veneto region of northern Italy, which is perfect to pair with festive Mother's Day appetizers or lighter fare. If she prefers red wine, you can't go wrong with the full-bodied flavors of Chianti or Piedmont. A set of wine glasses or a decanter can make the gift even more special!
Trip to Italy
We would be remiss not to suggest a trip to Italia! From the stunning coastlines of Amalfi, to the rolling hills of Tuscany, to the iconic canals of Venice, there's something for everyone. For moms who prefer experiences over material goods, a trip to Italy is the perfect way to celebrate and honor her. We're here to craft a personalized and unforgettable trip, from full service itineraries to a la carte activities. Schedule your free consultation today to get started!