Do you have a sweet tooth? Then you'll enjoy indulging in some of Italy's delectable delights. From breakfast pastries to holiday treats, Italy has mastered the art of i dolci (literally translated as "sweets")! Let's get to know some of the classics.
Tiramisù
We begin our adventure in the Veneto region, home to the iconic tiramisù. This classic Italian dessert features layers of coffee-soaked ladyfingers, creamy mascarpone cheese, and a generous dusting of cocoa powder. Translating to "pick me up" in Italian, tiramisù lives up to its name, as every spoonful delights the senses and lifts the spirits.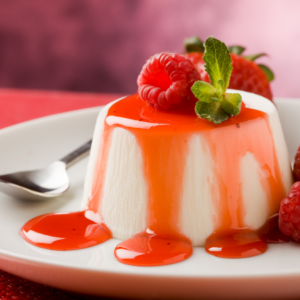 Panna Cotta
Venturing to the Piedmont region, we encounter the velvety goodness of panna cotta. This elegant dessert is made from sweetened cream, set with gelatin, and served with a luscious berry or caramel sauce. The smooth and creamy texture of panna cotta is a heavenly delight that captivates the palate.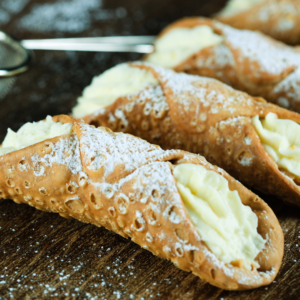 Cannoli
Traveling south to Sicily, we encounter another beloved sweet treat – cannoli. These crispy, tube-shaped pastry shells are filled with a luscious mixture of ricotta cheese, candied fruit, and chocolate chips. Cannoli is a delightful combination of textures and flavors, offering a taste of Sicily's rich culinary traditions.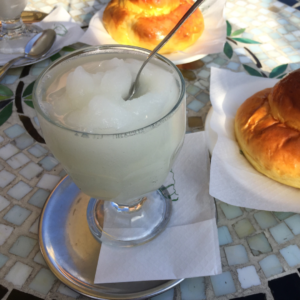 Granita
Sweets aren't just for dessert! Another popular option in Sicily is granita, a refreshing treat that features a semi-frozen mixture of sugar, water, and natural flavorings, such as lemon, almond, or coffee. Served alongside a buttery brioche or simply enjoyed on its own, granita adds a touch of sweetness to the morning routine, making breakfast a delightful affair.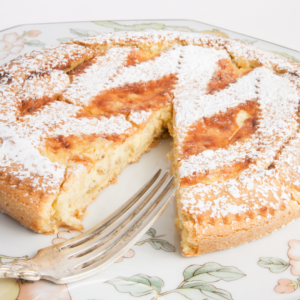 Pastiera Napoletana
In the Campania region, we discover the delightful pastiera napoletana, a traditional Easter cake. This aromatic pie features a unique blend of wheat, ricotta cheese, candied fruit, and fragrant orange blossom water. Its sweet aroma and captivating taste make it a cherished dessert throughout the year.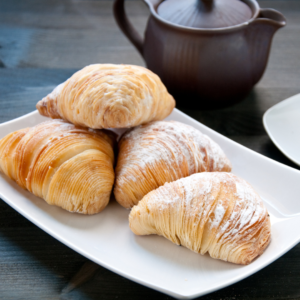 Sfogliatelle
Hailing from the Amalfi Coast and popular throughout the south, sfogliatelle are pastry masterpieces that delight the senses. These shell-shaped delicacies consist of layers of buttery, flaky dough on the outside and a rich filling of citrus, vanilla, and ricotta on the inside. This local treasure is not to be missed!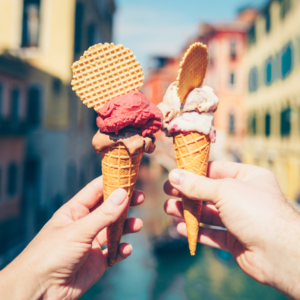 Gelato
We can't talk about sweets without mentioning gelato, Italy's beloved version of ice cream! With endless flavors to choose from, gelato is a delightful indulgence that offers a refreshing respite on warm Italian days. 
Next time you're in Italy, head to a local pasticceria (pastry shop) or gelateria (ice cream shop) to satisfy your sweet tooth. You won't be disappointed!