If you're looking for the perfect Mediterranean getaway, look no further than the Neapolitan islands! Located off the coast of Naples, the idyllic destinations of Capri, Ischia, and Procida all offer unique characteristics and experiences. Whether you opt for a day trip or extended stay, this breakdown should help you choose your destination!
Captivating Capri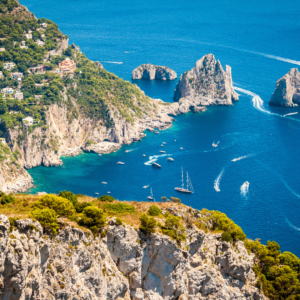 With its breathtaking natural beauty, glamorous atmosphere, and rich history, Capri has long been a magnet for visitors from around the world.
This idyllic island offers a perfect blend of natural wonders and refined elegance, and has inspired artists, writers, and poets throughout the ages. Whether you're seeking a tranquil retreat, thrilling adventures, or indulgent luxuries, Capri beckons with its undeniable allure. Here are three attractions to get you started:
1️⃣ Blue Grotto: Embark on an unforgettable adventure by visiting the renowned Blue Grotto (Grotta Azzurra). Hop on a small rowboat and venture into this magical sea cave, where sunlight creates an ethereal blue glow on the water's surface.
2️⃣ Monte Solaro Chairlift: Don't miss the Monte Solaro chairlift for the best view on the island! Just hop on the bus from Capri Town, which conveniently stops right next to the entrance in Piazza della Vittoria, then enjoy the 12 minute ride to the top. 
3️⃣ Villa Jovis: Step back in time with a visit to Villa Jovis, the impressive ruins of Emperor Tiberius' ancient palace. This historic site offers a glimpse into the opulent lifestyle of the Roman Emperor and provides stunning views of the island and the surrounding sea. 
Idyllic Ischia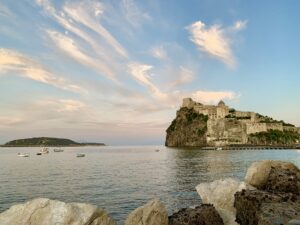 Known as the "Green Island," Ischia enchants visitors with its lush landscapes, pristine beaches, and therapeutic thermal springs. Less popular (and therefore less touristy) than its neighbor Capri, this hidden gem offers a perfect escape for those seeking relaxation, natural beauty, and rejuvenation. With its charming villages, medieval fortresses, and picturesque harbors, Ischia invites you to immerse yourself in its authentic Italian culture and hospitality. You simply can't miss:
1️⃣ Aragonese Castle: Explore this medieval fortress that's perched on a rocky islet and connected to Ischia by a stone bridge. Step back in time as you wander through its ancient walls and discover its fascinating history. Explore on your own or book a guided tour!
2️⃣ Thermal Gardens: Ischia is known for its luxurious thermal parks which create a natural, relaxing oasis. You'll find a variety of thermal pools, lush gardens, hydrotherapy treatments, and panoramic terraces. Soak in mineral-rich waters and let the serene atmosphere wash away your stress! 
3️⃣ Sant'Angelo Village: This charming fishing village is known for its winding streets, colorful houses, and quaint harbor. Stroll along the waterfront, browse local shops, and savor delicious seafood in one of the cozy restaurants. Don't miss the stunning views from the top of the village!
Picturesque Procida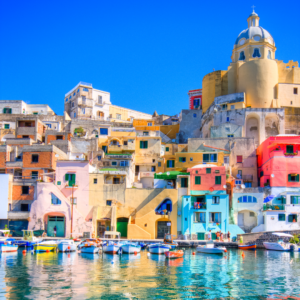 Known for its unspoiled beauty and authentic charm, Procida offers a truly enchanting escape from the bustling crowds.
As the smallest of the Neapolitan islands, it features vibrant pastel-colored houses, winding streets, and charming harbors. Steeped in history and surrounded by turquoise waters, this island paradise exudes a tranquil ambiance and authentic atmosphere. You won't want to miss these highlights:
1️⃣ Marina Corricella: Visit the charming and picturesque fishing village that embodies the authentic essence of Procida. Its pastel-colored houses, narrow streets, and vibrant fishing boats create a postcard-perfect scene. After arriving at Marina Grande, it's only a 5-10 minute walk through the harbor where you'll pass some fascinating old shops, churches and houses along the way.
 2️⃣ Terra Murata: Explore the historic, fortified hilltop village which offers breathtaking views of the surrounding landscapes and the neighboring islands. Discover the ancient walls, narrow alleyways, and the impressive Abbey of San Michele Arcangelo. Literally meaning "Walled Land", it's a 20-minute walk or quick bus ride from the main port of Marina Grande. 
3️⃣ Chiaiolella Beach: Relax on this beautiful sandy stretch with crystal-clear waters. This tranquil beach is perfect for sunbathing, swimming, and unwinding. Enjoy the serene coastal atmosphere, take refreshing dips in the Mediterranean Sea, and admire the stunning views of the island's coastline.
Whether you choose one island or explore them all, a visit to these Mediterranean gems is sure to leave you with cherished memories and a longing to return. Contact us today to start planning your trip!